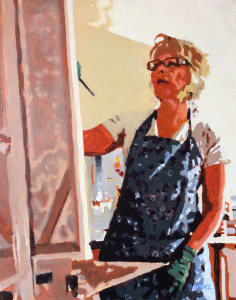 Barbara is an award-winning full-time artist based in Ottawa, Ontario who paints the people and places she sees all around her. Her paintings are in public, corporate and individual collections in Canada and internationally.
In Ottawa Barbara is represented by Koyman Galleries, Canada's largest commercial art gallery located at 1771 St. Laurent Boulevard.
In Toronto Barbara is represented by Canvas Gallery located in the Artisan Factory at 344 Westmoreland Ave. N.
In Montreal Barbara is represented by Chase Art Gallery, located at 450 Beaconsfield Blvd.
Barbara's work can also be found at the Ottawa Art Gallery's commercial gallery, Galerie Annexe , located at 50 Mackenzie King Bridge.
And now Barbara's paintings are also exhibited at Rag & Carbon, at 796 Bank St. in the Glebe.
Barbara is an Active Member of the Federation of Canadian Artists. The Federation has 3000 members and was founded in 1941 by members of the Group of Seven. In awarding Barbara this status, the Federation judged the quality of her work to be of a consistently high level that she can compete on the Canadian national stage. Her painting "Curb Appeal" won first prize in the Federation's 2022 365 Exhibition.
Barbara's solo show, "Our Town", was exhibited at Koyman Galleries in October and November 2022.
Barbara has studied with Canadian painters Brian Atyeo, CSPWC, OSA (in 2019, 2016 and 2015) and Mike Svob, SFCA (in 2017). She's also studied drawing, painting, life-drawing and portraiture at the Ottawa School of Art and portrait painting at the Winter Academy at Big Arts in Sanibel, Florida. She first worked with acrylic paint in 2005 at a life-changing St. Lawrence College Summer School of the Arts workshop taught by the Eastern Ontarian artist, Anne Barkley, SCA and has painted exclusively in acrylics ever since.