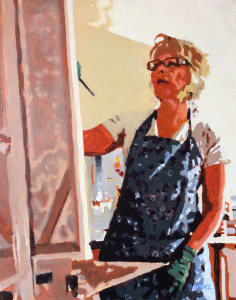 Barbara is an award-winning full-time artist based in Ottawa, Ontario who paints the people and places she sees all around her. Her paintings are in individual, corporate and public collections in Canada and internationally.
In Ottawa Barbara is represented by Koyman Galleries. Koyman Galleries is Canada's largest commercial art gallery with over 13,000 square feet of beautiful gallery space located at 1771 St. Laurent Boulevard.
In Toronto Barbara is represented by the very open, bright and welcoming Canvas Gallery located in the Artisan Factory at 344 Westmoreland Ave. N.
In Montreal Barbara is represented by Chase Art Gallery, a legend of the West Island of Montreal for over 30 years, located at 450 Beaconsfield Blvd.
Barbara's work can also be found at the Ottawa Art Gallery's commercial gallery, Galerie Annexe , located at 50 Mackenzie King Bridge, next door to the Rideau Centre in downtown Ottawa.
And now Barbara's paintings are also exhibited at Rag & Carbon, the new Ottawa gallery just opened at 796 Bank St. in the Glebe.
Barbara is an Active Member of the Federation of Canadian Artists. The Federation has 3000 members and was founded in 1941 by members of the Group of Seven. In awarding Barbara this status, the Federation judged the quality of her work to be of a consistently high level that she can compete on the Canadian national stage.
Barbara's solo show, "Our Town", was exhibited at Koyman Galleries in October and November 2022.
Barbara's paintings have been selected three years in a row to appear in the Federation of Canadian Artists annual calendar. "Curb Appeal" won first prize in the Federation's 2022 365 Exhibition and will appear in the 2023 calendar. "Coffee First" appears in 2022 and "The Golden Hour" was in the 2021 calendar as well as being an award-winner in the 2020 365 Exhibition. In 2019, "View from the Tracks, Home 1" was awarded an honourable mention by the Federation in their juried show on Granville Island, Vancouver. That exhibition featured 224 original works created by artists from 11 countries. Barbara had three paintings in the show.
Barbara has exhibited in numerous other juried shows including her solo exhibition, "Market Life", at the Galerie Old Chelsea.
Barbara has studied with Canadian painters Brian Atyeo, CSPWC, OSA (in 2019, 2016 and 2015) and Mike Svob, SFCA (in 2017). She's also studied drawing, painting, life-drawing and portraiture at the Ottawa School of Art and portrait painting at the Winter Academy at Big Arts in Sanibel, Florida. She first worked with acrylic paint in 2005 at a life-changing St. Lawrence College Summer School of the Arts workshop taught by the Eastern Ontarian artist, Anne Barkley, SCA and has painted exclusively in acrylics ever since.
Barbara was born in Winnipeg, Manitoba. As a teenager growing up in Montreal, Quebec, Barbara thought she might be set on a future in commercial art. But, things didn't exactly unfold that way and she ended up going to McGill Law School and on to a career as a federal government lawyer practising regulatory law in the National Capital Region. Through it all, the right brain stimulation that art provided was a necessary balance to the left brain demands of her day job. Finally, Barbara devoted herself to painting on a full-time basis in 2014.